Northampton Transport Heritage Vehicles
Here we show details and a picture of vehicles owned by us, the next section down will show members vehicles or other vehicles we can use from time to time at our events. There are more photos of the vehicles on the Gallery Page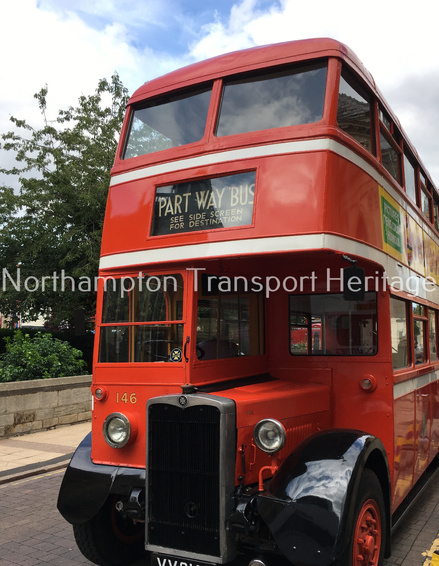 VV 9146 Crossley
The Crossley we have has been passed to us on the death of John Jackson who died in 2021 and it was his and Tony Melia's wishes that the bus came home to Northampton and for us to be custodians, and it arrived in June 2021.
The history of this bus is quite phenomenal, originally it was part of a batch numbered 140-149 and delvered to the corporation in October and November 1946 and had Roe bodywork. These were the last non-Daimler buses to be bought until 1972 following a decision by the Transport Committee to standardise on Gardner engined Daimlers. The bus was withdrawn from service in February 1963 and remained in a scrapyard until January 1974 when it was acquired by the late Norman Myers of Bolton. In 2007 John Jackson bought the bus and he and Tony set about restoring it. It was completed in 2016 and returned to Northampton in 2017 in the condition seen in the photo.
So it is now home and has been on the road at a few events already. We are also collecting the remains of 141 (basically the chassis) which will act as a pool for parts for 146 in the future.
The Crossley won the Best Preserved Double Deck Bus at Buses Festival at Sywell in August 2022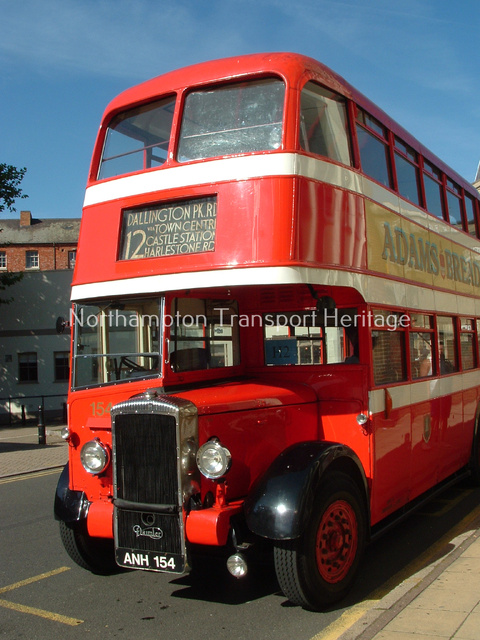 ANH 154 Daimler CVG6
This is 154 a Daimler CVG6 with Northern Coachbuilders Body H30/26R.
This bus was new in 1947 as part of a batch of 20 buses (Nos 150-169) with bodywork by NCB. This was the largest single batch of buses delivered to the corporation until one-person operation was introduced in 1973.
At the time these buses were built materials were still in short supply and in later life the bodywork tended to sag as the result of unseasoned timber being used in the framing. No 154 was withdrawn from passenger service in 1964 having clocked up some 620,790 miles service in the town.
It was retained for use as a driver training vehicle until 1969. It then had a brief period as a promotional vehicle until 1978 when it went into storage at St.James's bus depot. In 1990 the bus entered preservation with the 154 Preservation Society and over £15,000 has been spent on restoring and maintaing the vehicle.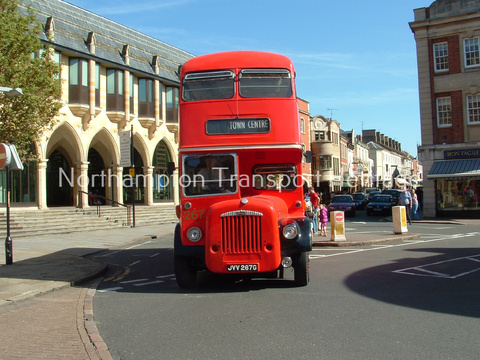 JVV 267G Daimler CVG6
This is 267, a Daimler CVG6 with Roe H33/26R body.
The last tradional Northampton Transport bus and the last in the batch (Nos 263-7) delivered in 1968. No 267 has the distinction of being the last Daimler half-cab, the last rear entrance bus without doors, the last pre-selector gearbox bus and the last Roe teak framed body to be supplied to the home market. A real piece of Northampton History!
For the years between 1964 and 1972 the Northampton Transport fleet of 88 buses was wholly comprised of this type of bus. This bus survived with the Corporation long after the rest of the marque had been withdrawn from service and was given a full repaint in 1985 when the seats were also 're-upholstered'. No 267 continued to be retained for 'Special Duties'.
It was eventually withdrawn and entered preservation in October 1993 when First took over Northampton Transport. Since then over £20,000 has been spent on restoration and maintenance of the bus.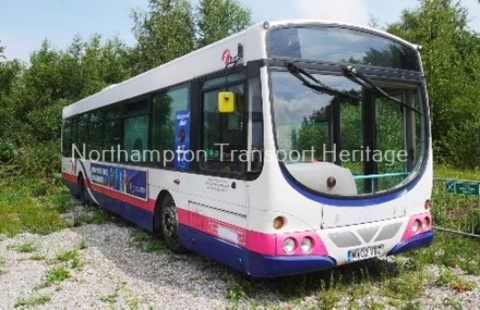 MV02 VBZ Volvo B7L

This our 'new' bus, christened Mavis. It is a Volvo B7L with Wright Eclipse bodywork.
This bus operated in Northampton for 10 years. It was one of a fleet of 75 buses bought by First to provide transport for the Commonwealth Games held in Manchester in 2002 and delivered between may and July of that year. MV02VBZ was fleet no 721. Following the games the bus was one of 25 similar buses transferred to Northampton where it gained fleet number 358 and later, under First's national numbering system became 6634, which it carries today. After the 10 years of service in Northampton, the bus was transferred to First Eastern Counties for use in Norwich as part of a low emission initiative. The bus spent much of its later years in Great Yarmouth where it was withdrawn in March 2020.
The Wright Eclipse body was at the forefront of wheel chair accessible design and still compies with current registration.
The vehicle is currently awaiting some minor fault clearances and an MOT (Jan 2022)when we will then get it out on the road for you to see.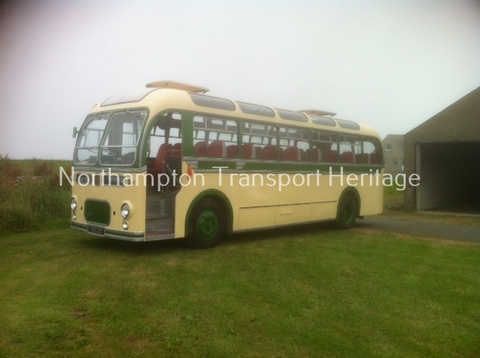 YBD 201 Bristol MW5G/ECW C34F

One of only four MW coaches bought new by United Counties (Nos 200-203). The coach entered service at Northampton in June 1961 with a six cylinder Gardner engine but only remained in service with United Counties until the end of 1963 when, along with 200 and 202, it was transferred to fellow Tilling Group company Eastern National of Chelmsford as their fleet number 051 and later becoming 348. Whilst in service with them it was fitted with a five cylinder Gardner engine. Withdrawn in April 1975 the coach then passed through a number of contractors and preservationists before entering service with North Somerset Coaches of Nailsea in November 2009 where it stayed until September 2011. After time with a preservationist the coach went to Belfast City Sightseeing where it remained from November 2013 until July 2018 when it moved to Orkney. The current owner acquired the coach in February 2022 when it was repatriated to Northampton. The coach has now been transferred into the care of Northampton Transport Heritage.
L381 LBD Mercedes O709D with Alexander Belfast AM (commonly called a Sprint)

The bus was new to Stagecoach United Counties and was one of a batch of 24 buses (Fleet numbers 360-383 registered L360-380 JBD, L381-383 NBD) delivered to Stagecoach United Counties in September and October 1993. They were delivered in Stagecoach stripes and branded as Street Shuttle. The bodies were built by Walter Alexander and Company (Coachbuilders) Ltd of Falkirk at their Belfast factory – at the former Potters (Belfast) Ltd coachbuilding business taken over in 1969 and rechristened Walter Alexander and Company (Belfast) Ltd. Officially classified as an 'AM' type, they were marketed and commonly known as an Alexander Sprint. Bus 381 was exhibited at the 1993 Motor Show held at Earls Court, London. The bus saw service at several depots and outstations notably Daventry, Northampton and Bedford. Following withdrawal from passenger service in 2012 the bus went via Ensign Bus and Coach Sales to a private estate in Norfolk where it was used as a 'shoot bus'. NTH acquired the bus from the estate in October 2022 with the long-term intention of restoring it to a previous livery.
The interior décor and seating moquette is as delivered when new. The drivers cab rails have been removed, as have the ceiling mounted handrails. The mechanical condition appears sound and the bus drives well. There is some corrosion of the chassis but this should be easily dealt with a small amount of welding and by an underbody clean and paint. Bodywork is generally good, although the bonnet and lower panels are dented. The entrance step to the drivers' door and the passenger entrance will need rebuilding. The seats could do with a wet clean to remove ingrained dirt.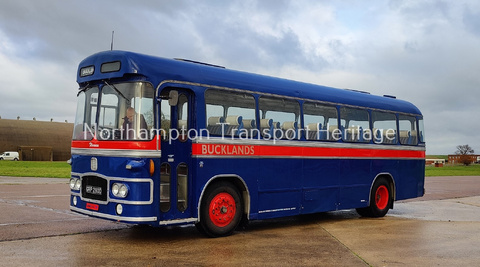 No. 260 – GRP 260D Bristol MW6G/ECW C39F.
One of three MW dual-purpose coaches bought new by United Counties (Nos 260-262). The coach entered service at Northampton in March 1966 but spent much of its' operational life at Bedford where it is said to have been the prison bus – transporting prisoners who could be handcuffed to the seat handrails! In 1974 the coach was repainted into National white livery and two years later was transferred to Biggleswade depot and finally withdrawn at the beginning of 1978. The coach then passed through two dealers before being purchased by Turlin Moor Middle School at Hamworthy, Poole, Dorset in July 1978. By 1985 the coach had moved to nearby Bournemouth and the 130 (Bournemouth) ATC Squadron who used it for three years before it moved into private ownership. In 1989 it was purchased by Buckland Omnibus Company at Stoke-on-Trent and named Florence. It underwent some restoration, fitted with replacement seats from a Bristol RE coach and returned to passenger service. The company relocated to Woodbridge in June 1990 and 260 transferred there where it remained in service until purchased by the current owner in December 2022 and returned to Northamptonshire. The coach is now in the care of a member of Northampton Transport Heritage.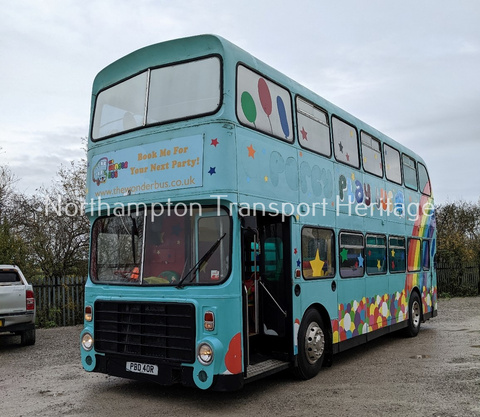 No. 40 – PBD 40R
Bristol VRT/SL3/6LXB with Alexander AL H45/27D body.
One of a batch of 36 similar buses (Nos. 35-70 with varying registration letters) delivered to Northampton Transport Ltd between May 1977 and October 1978. No. 40 was withdrawn from service in August 1990 and passed to Harris Bus of West Thurrock who used it on their local bus service network around Lakeside Shopping Centre for five years. In April 1995 the bus then passed to Eastonways of Ramsgate who operated it until February 1996. It then passed through dealers and the following year had been converted to a Playbus and named 'The Monkey Bus' based near Ashford, Kent where it remained until 2000. It was purchased by Kensington and Chelsea Council retaining its Playbus status but by December 2003 the bus was in store and, after time with a dealer, became a Playbus based in Coventry and named 'The Wonder Bus'. In early 2016 the bus moved to Oxfordshire, residing at Chiltern Park Aerodrome until September 2022 when it was saved by a preservationist and subsequently acquired by Northampton Transport Heritage in December 2022. Only one other example from the batch survives – No. 63 – converted to a caravan and resident in the South of France.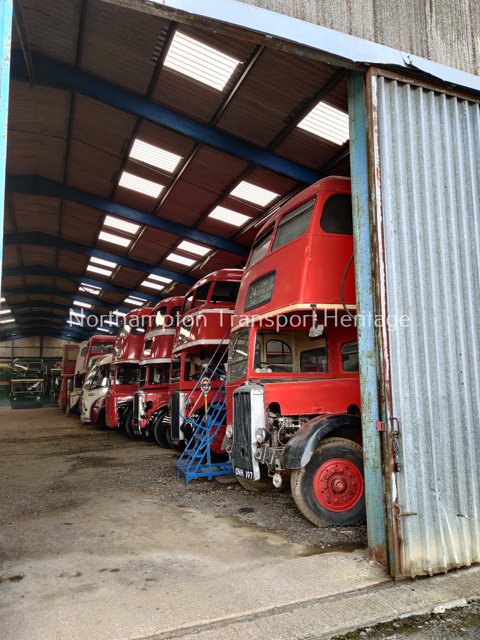 DNH 197 Daimler CVG6
This is a Daimler CVG6 with Roe/PRV H31/25R body
DNH 197 was one of a batch of 10 (190-199) Daimler CVG6's delivered in two batches (August and December 1953)
The first Roe batch had traditional teak framed bodywork by Charles H Roe of Leeds. The second batch however was delivered with metal fram bodies supplied by Roe owners, Oak Royal Vehicles, a major supplier to London Transport.
The chassis were also noteworthy in retaining the traditional exposed Daimler radiator as opposed to adopting the new look Birmingham style front end of 1950. As well as being 8ft wide and having a strip-contact bell push, along with an entire lower saloon, the batch had two other 'firsts'; they were the first vehicles to be delivered with the new livery of Vermillion broken only by a single narrow white stripe above the lower saloon windows, and they did not have a side destination screen.
It is easy to see how 197 shares its graeful lines with the Park Royal built RT Type of London fame. 197 is currently off the road and requiring about £60,000 worth of restoration work. Afterv standing idel for nearly 20 years it was started up and moved around the yard in the summer of 2020. The Charity has now had some extra large donations and has been assessed for restortion over the next few years.

If you wish to donate to see this bus with it sisters back on the road, please use the donation facilities on the web site.
This next section is the vehicles that are kindly made available to us when needed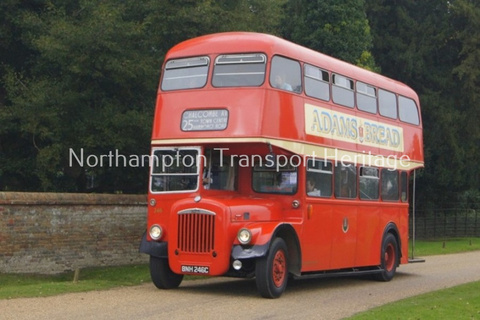 BNH 246C Daimler CVG6
This is the former Northampton Corporation No 246. Originally the first in a batch of 6 buses (No 246-251) delivered in 1965 and what had become the standard bus for the Corporation.
It was numerically the first bus to have a saloon heating system.
The bus was withdrawn in 1983 when it was only one of four half cab buses left in service with Northampton Transport. In 1987 it was purchased by the Provincial Traction Company and hired to Travel Well Coaches, Luton for use primarily on school contracts.
It suffered a major engine failure in 1989. It was rescued for preservation from a scrapyard in 1993 and restored mechanically. Restoration has continued with work to the body and interior with the intention to regain its former glory.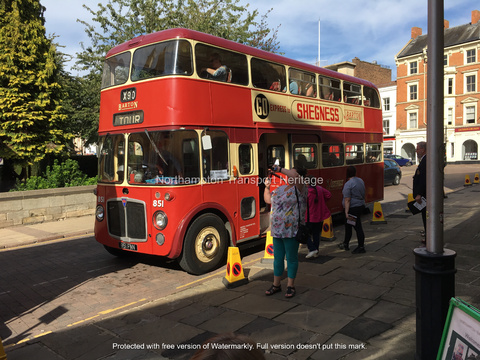 851 FNN - AEC Regent V 2D3RA

This is an ex-Barton Transport No 851 an AEC Regent V 2D3RA with Northern Counties FL37/33F body. This vehicle is owned by one of our members, and is seen here at one of our Heritage events in George Row, Northampton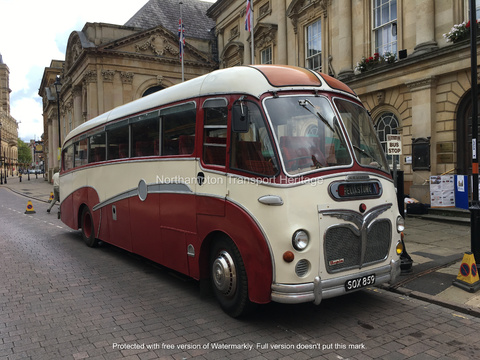 SOX 859 Commer Avenger III with Duple Super Vega C41F Body
A typical 1950's coach, although the Commer was more unusual than the Bedford Version. The coach was delivered new to Worthington Motor Tours Limited of Birmingham in May 1956. The coach passed to Wesleys, who were Commer operators, in August 1963 becoming fleet number 102. Following withdrawal in August 1972 the coach was purchased by Haven Evangelical Church, Pembroke Dock and in October 1981 passed to Great Brickhill Christian Fellowship in Milton Keynes. The vehicle first entered preservation with M.J.Perry at Ledbury in 1988 and has been recently acquired by the present group after passing through a number of preservationists. The intention is to restore the coach to Wesley's cream and blue.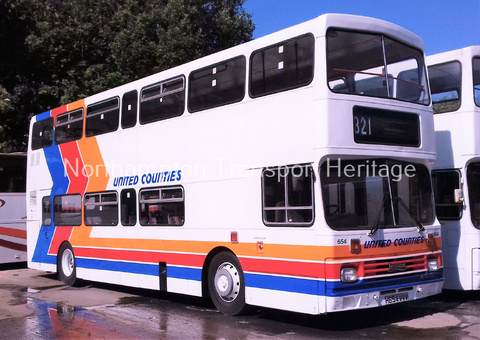 H654 VVV Leyland Olympian with Alexander RL H51/36F body
The last of 5 buses (Nos 650-654) delivered in October 1990 in Stagecoach 'stripes' livery with United Counties fleet names. After a brief time in Northampton, 654 was allocated to Kettering Depot whilst the other four went to Huntingdon. The bus became 14054 under Stagecoach renumbering. It later spent some time at Bedford Depot before being wothdrawn in 2010 and subsequently sold to Mortons Coaches of Tadley near Basingstoke who used it on rail replacement and school services. In 2016 the bus entered Morton's Heritage Fleet and regained Stagecoach livery with Hampshire Bus fleetnames. The bus was acquired for continued preservation by a group of enthusiasts in May 2018 and now carries United Countied livery. The bus is now in the care of members of Northampton Transport Heritage and part owned by us.