Northampton Transport Heritage News
After a momentus couple of years with the COVID-19 Pandemic stopping all our events, we arrive in 2023 with new hope and revisiting old events and finding new events to display or run our buses. 2022 was been a good year and our vehicles are in demand, but increased fuel costs are causing us to rethink some of our long distant trips for the future. We have added to our vehicles this year and much work has been going on in the background to keep as many of them fit for use.
Just to remind you, for all trips (unless stated otherwise against the event) each membership card allows you to bring one guest, extra guests or non-members can have daily membership for £5.
Events for 2023
We do have a few provisional dates for events listed on the events pages, more events and details as we confirm them.
We have also acquired a large collection of the late John Childs photograph collection from Northamptonshire Archives and we hope to put a history in pictures of the rebuild of our Crossley VV 9146 onto its own page in the new year.
Northamptonshire Archives have the remainder of the collection with many photographs of Northampton Corporation Transport Vehicles and Documents including fleet lists, disposal information, leaflets and posters.
Heritage Open Days - 2023
We love this event, and so do you! Which is why we have been working really hard behind the scenes negotiating with WNC to make this year's event happen!
Yes, it's that time of year when you need to register your site, event or building if you want to be on the heritage bus route for the weekend of 9th & 10th September 2023 .... Click the link below for that....
NTH also need our volunteers crews, helpers and vehicle owners to make the event happen. Interested? Use our contact page or email events@ntheritage.org for more details and your availability.
Two 'new' vehicles for 2023
Well the time has come to reveal our latest vehicles - full details are on the Vehicles pages.
First is No 260 - GRP 260D - Bristol MW6G/ECW C39F - One of three MW dual-purpose coaches bought new by United Counties (Nos 260-262). This vehicle will be used in 2023.

Next we have No 40 – PBD 40R Bristol VRT/SL3/6LXB with Alexander AL H45/27D body. - One of a batch of 36 similar buses (Nos. 35-70 with varying registration letters) delivered to Northampton Transport Ltd between May 1977 and October 1978. This vehicle runs but is in need of some cosmetic changes and new seats throughout and second doors but may be used in 2023 for static display/sales stand until we can refurbish it.

Richard Heron's Funeral Arrangement for members/guests
Richard's funeral will take place on Thursday, 1st December 2022. We will be using bus 154 to carry our members and any mourners who wish to join us. The bus will leave from Marlborough Road opposite the old transport depot and adjacent to the Doddridge Centre. If you are joining us arrangements have been made for you to park your car in the Doddridge Centre car park - entrance on Marlborough Road. It will be helpful if you can let me know your car registration number if you wish to use this facility.
The bus will leave the Doddridge Centre, Marlborough Road at 1000 hours and there will be a pick up at Victoria Street at 1015 hours. The bus will proceed to St Gregory's Church for the funeral service at 1100 hours.
Following the service the bus will form part of the cortege of six buses and proceed to Kingsthorpe Cemetery for the Interment at 1300 hours. The cortege will pause in North Gate Bus Station during the journey.
After the Interment bus 154 will return to the Doddridge Centre and Victoria Street before continuing to St Gregory's Church for the wake. After about an hour the buses will depart with 154 returning to Victoria Street and the Doddridge Centre.
We hope you will be able to join us in bidding farewell to a fine gentleman who has given so much service and friendship to NTH, his colleagues and the general public.
If you need any more information, please get back in touch.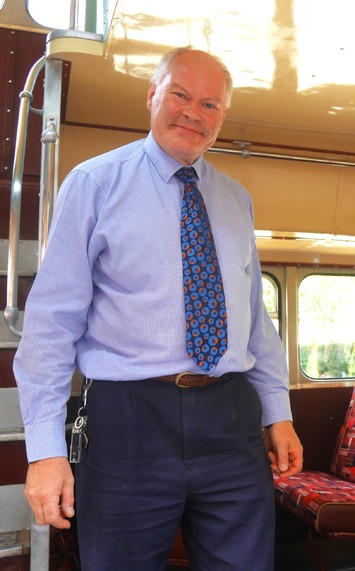 The Funeral of Richard Heron – husband, father, bus driver, public servant, and a gentleman.
Northampton Transport Heritage are asking for the consideration of motorists and road users on Thursday 1st December as they provide three heritage buses as part of six bus funeral cortege, of which, one will convey the deceased, Richard Heron.
Richard Heron died suddenly in early November leaving his wife Lorna and four children. Richard was a bus driver working for Stagecoach and was well known to passengers as well as staff across the county and beyond. He was also a keen worshipper at St Gregory's Catholic Church. Everyone who knew Richard will all say the same thing; what a gentleman he was, how helpful and considerate he was and how he was just such a lovely man. He was also a professional bus and coach driver for well over thirty five years, working for firms such as Shelton Osborne, United Counties and latterly Stagecoach.
Richard was also a keen volunteer with Northampton Transport Heritage driving heritage buses to a very high standard at town events such as Heritage Open Days, which he did for many years. He was a very popular person who nothing was to much trouble for, after his family, whom he loved and talked about a lot. A much valued and respected gentleman.
The cortege will assemble at St Gregory's Church on Birchfield Road East/Park Avenue North at 10.30 and will depart there at approximately 12.15 and will then travel via Park Avenue North, Kettering Road, Abington Square and Greyfriars. It then will pass through Northgate Bus Station. It will pause for two minutes there (no service departure will leave at this time) for staff to pay their respects to Richard before departing for Kingsthorpe Cemetery via Mayorhold, Barrack Road, Kingsthorpe Road, Harborough Road and then parking on Holly Lodge Drive to allow mourners to alight and walk to the graveside.
The bus carrying Richard will continue to the main cemetery entrance on Harborough Road and travel to the graveside.
Road users in the vicinity of the cortege are asked to be considerate and to give road space.
Graham Croucher, NTH Chairman said: "After a lifetime of dedicated service to the travelling public, we think that is it fitting that our dear friend Richard is given a fitting send off and is conveyed in a style that befits the love he had for his profession, and we would ask the public to pay some respect to that. We ask if motorists would assist us on the day, if they see us, by being patient and giving us the space on the road to proceed unhindered as a cortege. The Police are unwilling to assist us so we will be relying on the goodwill of the traveling public to allow us to convey Richard to his last resting place in dignity. We wish to keep the cortege together but would like to cause as little disruption to traffic as possible and we thank people in advance for their patience."
The public are welcome to pay their respects along the route, to say farewell to Richard as he makes his final journey, appropriately, by bus.
Mercedes 709D - L381 LBD
We have acquired this bus recently, it was originally a Stagecoach bus that ran in the County and has now been bought and returned to it's 'home'.
It runs well and has been cleaned up so it can be used, we hope to eventually put it back into its original Stagecoach livery which along with its fleet number can still be seen under the current green paint.
Heritage Running Days at Delapre 15/16th October - Cancelled
Although Delapre invited NTH to hold the event at the Abbey we have been unable to resolve differences between our proposals and how they want the event organised. Our main concern centres around safety issues and conflict between pedestrians and moving vehicles. Unfortunately, we have therefore had to take the decision to cancel the event. We are sorry for any inconvenience this may have caused but we must be certain of everyone's safety at any events we attend/organise.
EVENTS 17th & 18th September 2022
The Trustees and committee of NTH are incredibly sorry to have to announce that our much loved Market Square bus rally, on Sunday 18th September has now been cancelled by West Northamptonshire Council, due to town centre roads being closed for a large part of the day due to a commemoration service for the late Queen Elizabeth II.
Our Daventry event on the 17th will go ahead, the day before, with connecting buses (X1) departing Victoria Street, Northampton at 09.15 & 12.15 and these are free.
We are investigating the possibilities of a surrogate event with a heritage partner for mid - October. If feasible we will let you know just as soon as we can.
Thank you for your understanding.
Graham Croucher, Chair, NTH
Heritage Open Days Weekend - Heritage Bus Rides
The Trustees and Committee of NTH regretfully announce that we have made the very difficult decision to withdraw from this weekend's Heritage Open Days Events in Northampton.
After much discussion overnight and this morning, between ourselves, with heritage partners and with leaders of the council, we have come to the conclusion that it would be inappropriate to proceed with the event following the passing of Queen Elizabeth.
The requirements of "Operation London Bridge" mean that certain civic duties and procedures will have to take place and will happen in the town centre, at the Guildhall and All Saints Church on both days. Our event operates from George Row which will be in the middle of any proceedings. We do not want to be in the middle of these important events and seen to be disrupting them or carrying on as normal. There will also be a serious disruption to our timetables and, if large crowds are present there is a safety aspect to consider too.
We have the full support and agreement of the West Northamptonshire Council Leader and Deputy.
We are aware that nationally, Heritage Open Days events are being encouraged to go ahead, with decisions at the discretion of individual event organisers and we realise many will be disappointed at our decision, as we are, but our assessments of the situation show that we need to exercise due diligence and be proactive.
Other Heritage partners are making similar decisions and we are in discussions with them to host some sort of replacement event in the coming weeks. Details will be provided at an appropriate time and when finalised.
Our events next week at both Daventry and Northampton Market Squares are under review but it is unlikely that, at this stage, they will go ahead either, but we will confirm either way in the coming days.
We want to thank you for your patience and understanding in these exceptional matters and our thoughts remain with the King and the Royal family.
Please Note - the Daventry Heritage Day on 17th September is going ahead and we hope to see you all there.
Queen Elizabeth II - 1926-2022
The Trustees, committee, and volunteers of Northampton Transport Heritage are deeply saddened to learn of the passing of the nation's mother, grandmother, our Queen.
We pay tribute to the dignity and consistency that Elizabeth served her country.
Our thoughts are with her children and grandchildren, who have lost a dear mother and grandmother.
We are seeking guidance from the council as to whether they are minded to continue with the weekend's events and the protocols.
We will update you as soon as we know more but at the moment the events are continuing.
September News
Check out our events pages for a busy 2 weeks and a chance for you to see many of our and associates vehicles.
September 10/11th - Postponed - may be held in October 2022 - Heritage Events and buses from George Row, Northampton to various heritage properties and events throughout the weekend.
September 17th - Event ON - Daventry Heritage Day with buses on display and on previous Daventry and District routes - all from the Market Square in Daventry
September 18th - Postponed due to the whole area of All Saints being closed for ceremonies on the Sunday - Northampton Transport Heritage vehicles and visiting buses on display on the market Square with buses leaving the Drapery, Northampton on a number of original Northampton bus routes.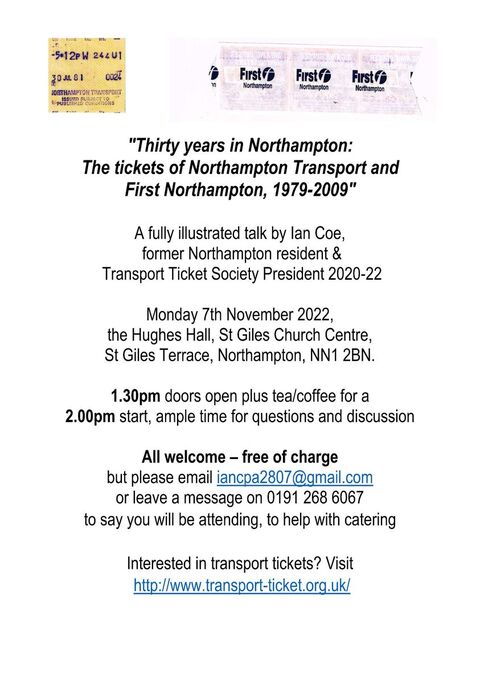 "Thirty years in Northampton: The tickets of Northampton Transport and First Northampton, 1979-2009"
A fully illustrated talk by Ian Coe, former Northampton resident & Transport Ticket Society President 2020-22.
Monday 7th November 2022, the Hughes Hall, St Giles Church Centre, St Giles Terrace, Northampton, NN1 2BN.
1.30pm doors open plus tea/coffee for a 2.00pm start, ample time for questions and discussion.
All welcome – free of charge but please email iancpa2807@gmail.com or leave a message on 0191 268 6067 to say you will be attending, to help with catering. All enquiries as above.
Interested in transport tickets? Visit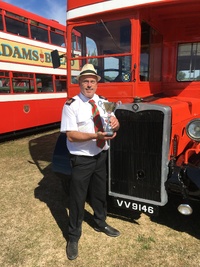 August 2022 News
We attended the Buses 2022 Festival at Sywell Aerodrome, Northamptonshire on a glorious hot Sunday 7th August, we took 5 buses to the event - 146, 157, 202, 267 and 654. Whilst 3 of the buses were in the exhibition area 267 and 654 did many visitor trips organised by the Festival organisers.
We were both surprised and delighted to receive the trophy for Best Preserved Double Deck for our 146 - the 1946 Crossley - seen left with our Chairman and the Cup.
146 will be at Roade on 13th August if you would like to see the bus and have a free ride around the village. See our events page for more details
July 2022 News
For all you bus fans, come to Sywell on 7th August - we are scheduled to have 5 (yes 5!) of our vehicles at the event - see the events page for more details.
The event details are in the picture (right) and details of the all vehicles attending are on The Buses website along with more information, including a shuttle bus service from Wellingborough Railway Station. Northampton Transport Heritage will have a service for members from the usual place in Northampton - see events page.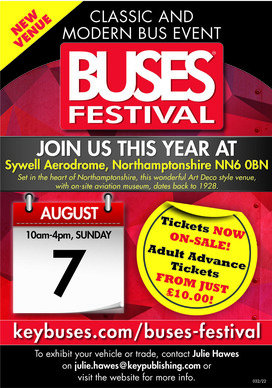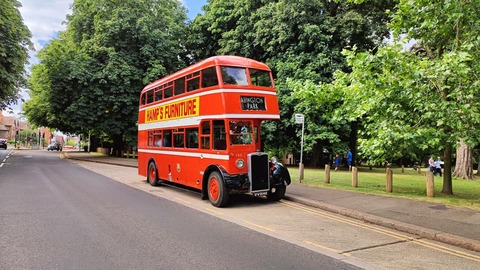 June 2022 News
Our event season is now in full swing, if any of you visited The Abington Park Museum on 25th June we ran 2 buses almost continually from 11 until 4 (146 and 157) with 201 also helping out, carrying 1123 passengers on the day. This was followed on 26th July by 157 and 246 providing free rides from the Watford Classic Car Festival for a round trip to West Haddon, again very popular with the visitors. Thank you all.

April 2022 News
Social Meeting and the AGM
The rearranged Annual General Meeting will take place on Sunday, 24 April 2022 at Kingsley Park Working Mens Club, Kettering Road, Northampton commencing at 1430 hours. Come along to hear how we are progressing with our new Charity status and to have your say about how NTH is run.
March 2022 News
Social Meeting and the AGM
We regret that the Annual General Meeting due to take place on Sunday, 20 March 2022 at Kingsley Park Working Mens Club, Kettering Road, Northampton commencing at 1430 hours has had to be postponed. Unfortunately, due to illness and other commitments, it has not been possible for your Committee to prepare adequately for the meeting and you will be advised of the revised date when this has been arranged. We are sorry for any inconvenience this change may cause you but, please remember, our Committee are volunteers and give their time freely to NTH.
One of our members has acquired United Counties 201 coach - see our vehicles for more information and pictures
February 2022 News
Let's go Green………
Unfortunately, our buses will never be ECO friendly themselves. Due to their age, construction and engine designs they won't meet Euro emission standards. We are acutely conscious of this and the image this may portray to the public and have therefore resolved to do our utmost to reduce the impact of NTH activities. We are pleased to announce that NTH has joined the Federation of British Historic Vehicle Clubs and, in association with Tree-V, we will be participating in their carbon balancing scheme. The scheme will see new woodland planted in the UK using native species best suited to the local ecosystem. The carbon footprint of historic vehicles (which include motorcycles, cars, buses, lorries, light commercials, military, agricultural and steam vehicles) is very low and represents less than 0.25% of total mileage travelled on UK roads.
From 1 January 2022 NTH will account for all mileage covered by our own vehicles and any members or visiting vehicles that we use for our activities and events. This information will form the basis of our payment to the scheme with tree planting taking place to offset our emissions. This will be an added expense to running the vehicles and staging events but we feel this is the responsible course of action to take if we want to continue to enjoy having the use of our classic vehicles.